Not to be confused with the car, NT Gold.
Gold Membership, alternatively known as Nitro Gold, NT Gold or simply Gold, is an optional, upgraded membership for Nitro Type that was released on June 21, 2013. This annual membership enhances the user's experience through various perks, including extra cash, exclusive cars, and a full-year season pass, as well as the site-wide removal of advertisements.
A user can either purchase Nitro Gold for themselves via the Upgrade page, or gift it to other racers by clicking on the "Give Nitro Gold" button in a racer's profile. The cost of the subscription and the benefits do not change whether it is being bought for one's self or gifted to another person.
Pricing
There are currently 3 tiers of Nitro Gold, available for different prices. Although the costs differ, each of the three tiers have no difference between them in terms of perks or benefits. The only difference is the amount of Nitro Cash deposited to the player's account upon purchase.
The three tiers of Nitro Gold are as follows:
$9.99 - 1 Year Nitro Gold +

$

2,000,000

$11.98 - 1 Year Nitro Gold +

$

4,000,000

$24.98 - 1 Year Nitro Gold +

$

40,000,000

$49.98 - 1 Year Nitro Gold +

$

120,000,000

$9.98 -1 Year Nitro Gold +

$

0
There were also three more tiers of Nitro Gold which were previously available to users, but were completely removed on August 21, 2020. Those tiers are as follows:
$13.99 - 1 Year Nitro Gold +

$

5,000,000

$16.99 - 1 Year Nitro Gold +

$

10,000,000

$34.99 - 1 Year Nitro Gold +

$

50,000,000
Previously, all the tiers used to give a lifetime subscription to Nitro Gold. In early August 2019, all of the tiers were changed to instead give a year-long subscription. The prices were not affected.
Nitro Gold memberships can be purchased using a credit/debit card, Google Pay, or Apple Pay, via Stripe. Gold Memberships were previously able to be purchased using Bitcoin, but that option has since been removed. Additionally, Gold Licenses can be purchased through the Teacher Portal, using either a credit/debit card, or via Purchase Order. These licenses differ from usual Gold purchases, as they can be given to, taken from, and transferred between students at will. Only the $9.99 tier is available for purchase from the Teacher Portal.
Benefits
Upon purchase of Nitro Gold, the player receives the following perks for one year: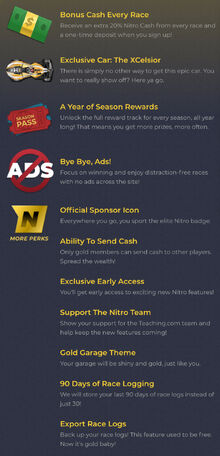 An instant deposit of Nitro Cash to the player's account (the amount of Cash deposited depends on which tier the player purchased previously).
A 20% Cash Bonus for every race.
The Gold Member-exclusive car, The Xcelsior V12, along with the Solid Gold title, the Nitro Gold sticker, and the Raining Gold trail.
A full-year season pass, which allows racers to get more rewards over the course of seasons, as well as the ability to redeem bonus tiers.
The complete site-wide removal of ads, which among other things, allows for less bandwidth usage, shorter loading times, and less distractions.
An official Nitro sponsor icon, as well as a golden Name Card behind your player during races, and a golden display name around the site.
The ability to send cash to any racer.
Exclusive early access to exciting new features.
A golden garage theme, that's "shiny and gold, just like you".
The last 90 days of races will be logged, instead of just 30.
The ability to export race logs as .CSV files.
Upon expiration of Gold Membership, any rewards that one earns during that time (exclusive cars/titles/loot/bonus cash, etc.) will remain on the player's account, but the user cannot earn any future rewards unless they renew their membership.
Updates and Changes
At its release, Gold Membership was only available for $9.99. It gave another achievement (The Gold Standard), that had a

$

5,000,000

cash reward. In December 2013, this achievement was disabled in favor of a direct cash deposit to the user, the amount depending on how much the user paid for their Gold Membership.
Early Gold Memberships did not give a 20% cash bonus every race; instead, car prices were reduced by 15% and paint job prices were reduced by 20%. This was changed with the Nitro Type 2.0 update.
For a period of time, only Gold Members were allowed to access the official Nitro Type forums. When the forums were shut down, this perk was quietly removed from the site.
In early August 2019, Gold Membership was updated to be an annual subscription instead of the previous lifetime upgrade. This does not affect those who purchased Gold before the update, but any Gold Membership purchases made after then must be renewed manually if the user wants to continue receiving Gold benefits.
From December 10-31, 2019, there was a 30% discount on all Gold Membership purchases.
On April 7, the ability to change your display name with no cool-down period was removed from the list of Gold perks, meaning that Gold users have to wait at least 8 hours to change their display name again.
On April 10, 2020, both the name and logo of Nitro Gold were changed to remove any instance of the word 'Type' in preparation for Nitro Math.
On April 16, 2020, the Gold Member exclusive Show That Gold! achievement was added, which awards the Nitro Gold sticker.
On June 16, 2020, the ability to give cash to any player, regardless of being friends or not, was updated to only Gold members.
On October 17, 2020, members were given the ability to purchase multiple years of Nitro Type gold ($9.99 USD per year).
From November 23 to November 29, 2020, there was a 30% Black Friday discount on all Gold Membership purchases.
Trivia
Vielle was the first player to buy Gold Membership.
When a player's Gold Membership is close to expiring, a message pops up in the player's garage.