Cash, also referred to as money, is Nitro Type's in-game currency. Cash can be used to purchase cars, titles, stickers and trails in the shop, send cash to other players, or create teams.
Methods of obtaining cash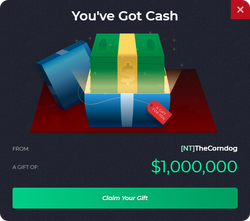 Trivia
$

4,294,967,295

is the max amount of cash any one person can have at one time.

This number is the Unit32 maximum value.

On June 11, 2021, a new cash symbol was introduced, replacing the previously used dollar sign ($).